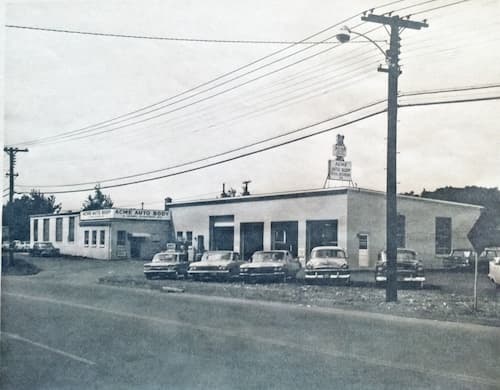 Acme Automotive Center's History
During the 1950's the first traces of Acme Automotive Center sprang up at 220 King Street in the form of a tire sales and suspension business. By the 1960's the operation called Acme Tire and Auto Center then - offered light automotive repair, but it wasn't until Donald Muccino Sr. bought the business in 1970 that it began to evolve into the full-service shop it is today.
Donald Muccino Sr. was a BF Goodrich tire representative, and he saw an opportunity at Acme Tire and Auto Center. He changed the name of the business to Acme Automotive Center, brought in more employees and began offering general automobile repair and collision work as well as tire service.
Donald Muccino Sr. was on his own, in terms of family members, until 1978, when John Muccino came on board; to assist his father in running the business. In 1987, Don Muccino Jr., also came on board, and in 1990 took over most of the operations, eventually buying the business from his father in 1993.
Two years after Don Muccino Jr. bought Acme Automotive Center from his father, he conceived a five-year renovation and expansion plan that would not only bring Acme Automotive Center's physical space and technology up to date but make it ready for the future.
Today the facility is compliant and equipped with state-of-the-art tools such as laser unibody measuring equipment, a computerized paint mixing system, a welder that duplicates factory welds, a down draft spray booth and ventilation systems that protect employees' health.
Acme Automotive Center is the preferred auto collision facility in the area and has received first place in the Best of the Valley Readers Poll for body work and auto painting from 2002-2009.
Due to Acme Automotive Center's success and quality workmanship in the Collision Repair Industry, in early 2004, Acme Automotive Center discontinued it's auto repair services to focus, renovate and expand it's facility to offer the best innovation and advancements in collision repair technology available to it's customers today. Through this progressive vision and new state-of-the-art collision repair facility, Acme Automotive Center continues to build on it's foundation of customer service and satisfaction.
Don Muccino Jr. takes a lot of pride in the family-owned business. All work performed at Acme Automotive Center is guaranteed, and all of the staff is professionally trained and certified in their areas of expertise.
Acme Automotive Center wishes to thank all of their past and current customers and welcomes new customers to discover the difference Acme Automotive Center can make in all of their car care needs.